Are You All In? Corporate Immersion in the Cloud
This feature article discusses how to prepare for a mass migration to the cloud and make the most out of all the available services. The feature also discusses approaching a cloud migration in stages based on criteria like what's easiest, what's most affordable, what's most mission critical, etc. The article will discuss some of the types of service firms that are beginning to specialize in assisting businesses in moving into the cloud (and how to keep them accountable with milestones and agreements)
Looking for something else?
This soon to be published feature article discusses how to prepare for a mass migration to the cloud and make the most out of all the available services. The feature also discusses approaching a cloud migration in stages based on criteria like what's easiest, what's most affordable, what's most mission critical, etc.

Download this free guide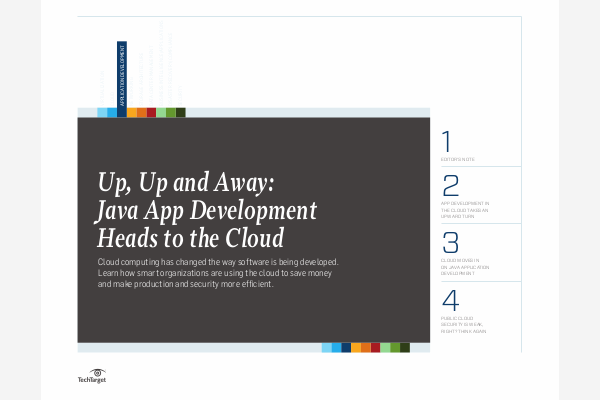 Free Handbook: Java App Development in the Cloud
Software engineers are approaching development and enterprise design in an entirely new way, thanks to the cloud. In this expert handbook, explore how your peers are leveraging the cloud to streamline app lifecycle management, save money, and make production and security more efficient.
By submitting your personal information, you agree that TechTarget and its partners may contact you regarding relevant content, products and special offers.
You also agree that your personal information may be transferred and processed in the United States, and that you have read and agree to the Terms of Use and the Privacy Policy.
Stay tuned...
Dig Deeper on Java development for cloud
PRO+
Content
Find more PRO+ content and other member only offers, here.