Book Excerpt: Building AJAX JSF Components
By Chris Schalk, Ed Burns and James Holmes
01 Oct 2006 | TheServerSide.com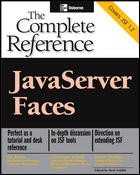 JavaServer Faces: The Complete Reference offers coverage of JavaServer Faces (JSF) including JSF custom component development. Written by experts directly involved in JSF development, this book covers everything JSF, from using Hibernate to integrate JSF with production-quality databases to techniques for debugging and developing automated software tests for JSF applications. The tutorial also serves as a thorough introduction to AJAX technology and techniques, and includes numerous custom JSF component examples including AJAX-enabled components.
Chapter 11 of this book, titled "Building AJAX JSF Components," covers the fundamentals of AJAX APIs and builds on creating custom JSF components by showing how to bring AJAX practices to component development. This chapter also reviews two AJAX JSF component examples, and offers some tips and tricks for developing an AJAXian Faces component.
Download Chapter 11 - Building AJAX JSF Components
Published by McGraw-Hill Osborne; ISBN: 0072262400; Published: August 25, 2006; Copyright 2007; Pages: 840; Edition: 1
For more information on JavaServer Faces: The Complete Reference, go to www.mcgraw-hill.com.
About the Authors
Chris Schalk is a Principal Product Manager and Evangelist for Oracle JDeveloper and is responsible for the Web application development features within JDeveloper. Prior to product management, Chris held positions in both software development and technical marketing at Oracle. Before joining Oracle, he worked at IBM as a software developer.
Ed Burns is a senior staff engineer at Sun Microsystems. Ed has worked on a wide variety of client- and server-side Web technologies since 1994, including NCSA Mosaic, Mozilla, the Sun Java Plugin, Jakarta Tomcat and, most recently, JavaServer Faces. Burns is currently the co-spec lead for JavaServer Faces.
James Holmes, on the Struts project committee, is the creator of the Struts Console. In 2002, Oracle Magazine gave him the Java Developer of the Year award for his work with the Struts framework and JDeveloper.