Pro Java EE 5 Performance Management and Scalability
By Steven Haines
01 Oct 2006 | TheServerSide.com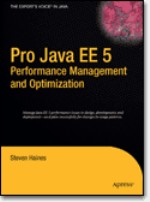 Pro Java EE 5 Peformance Management and Optimization features proven methodology to guarantee top-performing Java EE 5 applications and explains how to measure performance in your specific environment. The book details performance integration points throughout the development and deployment lifecycles. For QA and preproduction stages, author Steven Haines guides the reader through testing and deploying Java EE 5 applications with a focus on assessing capacity and discovering saturation points. Haines also defines the concept and application of wait-based tuning.
In addition, the book explains assessing and improving the health of applications upon deployment. The topics covered include trending, forecasting, and capacity assessing and planning. Haines also walks through the creation of a formal Java EE 5 Performance Management Plan, customized to an enviroment to help interpret and react to changing trends in usage patterns.
Chapter 6 of Pro Java EE 5, titled "Performance Tuning Methodology," focuses on setting up a proper testing environment and explores the concept of wait-based tuning. Haines explains the steps necessary to implement a formal performance tuning methodology and guides the reader through a complete tuning example.
Download Chapter 6 - "Performance Tuning Methodology" [934 KB]
Chapter 9 of Pro Java EE 5, titled "Performance and Scalability Testing," discusses the difference between the concepts of performance and scalability, and outlines the strategy of ensuring performance before testing for scalability. Haines also leads a detailed exploration into the ultimate scalability test - the capacity assessment - and explains how to assemble a formal Capacity Assessment Report.
Download Chapter 9 - "Performance and Scalability Testing" [1.13 MB]
Open the zip file for both chapters
Published by APress; ISBN: 1-59059-610-2; Published: May 2006; Copyright 2006; Pages: 424
For more information on Pro Java EE 5 Performance Management and Optimization go to www.apress.com.
About the Author
Steven Haines is the author of three Java books: The Java Reference Guide (InformIT/Pearson, 2005), Java 2 Primer Plus (SAMS, 2002), and Java 2 From Scratch (QUE, 1999). In addition to contributing chapters and coauthoring other books, as well as technically editing software publications, he is the Java Host on InformIT.com. As an educator, he has taught all aspects of Java at Learning Tree University as well as at the University of California, Irvine. By day he works as a Java EE 5 Performance Architect at Quest Software, defining performance tuning and monitoring software as well as managing and performing Java EE 5 performance tuning engagements for large-scale Java EE 5 deployments, including those of several Fortune 500 companies.