Agile Java Development with Spring, Hibernate and Eclipse
By Anil Hemrajani
01 Aug 2006 | TheServerSide.com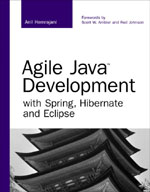 In Agile Java Development With Spring, Hibernate and Eclipse, author Anil Hemrajani describes technologies and methods to help bring simplicity back into enterprise Java development. Focusing on Spring, Hibernate and Eclipse, three key technologies that enable POJOs to be deployed in light-weight containers, this book demonstrates the complete lifecycle of an application from conceptualization to production. Other technologies covered in this book include Ant, JUnit and JSP tag libraries. Extreme Programming, Agile Model Driven Development and refactoring are also incorporated into the text as methods that can reduce the amount of up-front requirements and design.
Chapter 5 of Agile Java Development, focusing on "Using Hibernate for Persistent Objects," Hemrajani develops the classes needed to implement functionality for his sample application. The chapter covers object-relational mapping, how to install HSQLDB, database design, writing a Data Definition Language (DDL) script using Ant, and setting up and understanding more advanced areas of Hibernate.
Download Chapter 5 - Using Hibernate for Persistent Objects [640 KB]
Chapter 7 covers "The Spring Web MVC Framework." This chapter describes the benefits of the framework and how to build screens in the sample application using Spring MVC: a no-form controller, two form controllers, and a Spring HTTP interceptor.
Download Chapter 7 - The Spring Web MVC Framework [739 KB]
Open the zip file for both chapters
Published by SAMS; Series: Developer's Library; ISBN: 0672328968; Published: 5/9/2006; Copyright 2006; Pages: 360; Edition: 1
For more information on Agile Java Development with Spring, Hibernate and Eclipse go to www.samspublishing.com.
About the Author
Anil Hemrajani is the founder of Isavix Corporation, a successful IT service company, and DeveloperHub.com, an award-winning online developer community that grew to over 100,000 registered members over a four-year period. He has over 18 years of experience in the Information Technology community as a CTO, Architect, Developer and Trainer. He received the "Outstanding Contribution to the Growth of the Java Community" award from Sun Microsystems, the "Best Java Client" award at JavaOne for BackOnline, a Java-based online backup client/server product, and was nominated for a Computerworld-Smithsonian award for a free online file storage service Web site.