Book Excerpt: WebWork in Action
By Patrick Lightbody and Jason Carreira
01 Dec 2005 | TheServerSide.com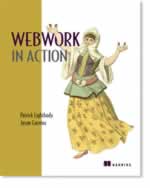 WebWork in Action is a book that walks through the WebWork framework, beginning with the basics of using WebWork continuing all the way through the interceptor and component models of WebWork. This introductory walkthrough of WebWork exposes you to the core ideas behind WebWork, providing a basis for diving further into the capabilities of the framework. With WebWork being accepted into the Struts family as Struts Ti, chances are that many developers will be able to use this information as a quick step into a future version of Struts.
For more information on WebWork in Action go to www.manning.com/books/lightbody.
Biographies
Patrick Lightbody has worked for various technology companies, from Cisco Systems to tiny Silicon Valley startups, and currently leads Jive Software's Professional Services organization. In his spare time he contributes to several OpenSymphony projects. Patrick lives in Portland, Oregon.
A developer and J2EE architect, Jason Carreira has lately designed and built enterprise financial software products. He currently works for ePlus on next generation eProcurement solutions. He is a core developer of the XWork command pattern framework and WebWork MVC web framework at OpenSymphony. Jason lives in Rochester, New York.