EJB Cookbook Review Project
By Ben Sullins and Mark Whipple
11 May 2006 | TheServerSide.com
Table of Contents
Setting the table

Part 1. Appetizer
1. Client code
2. Code generation

Part 2. Main Course
3. Working with data
4. EJB activities
5. Transactions
6. Messaging
7. Security

Part 3. Dessert
8. Logging
9. Deploying and Testing

Appendix A. Indigestion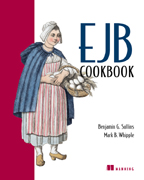 EJB Cookbook Review Project
Manning Publications and the authors would like to thank the members of TheServerSide.com who gave their valuable feedback on the manuscript chapters of this book. It is now in production and will be released in May. You can place an order for this book at Amazon.com or Manning.com
Note: The review process is now over and the EJB Cookbook has gone to press. Manning Publications and the authors of EJB Cookbook would like to thank the members of TheServerSide.com for their feedback. Please feel free to download the finished chapters here as a token of our appreciation.
Chapter 2 - Code Generation with XDoclet
Chapter 6 - Messaging
About the Book
EJB Cookbook provides an essential problem-solving resource, a place developers can quickly look up answers to everyday EJB problems. Just as cookbooks for meals contain step-by-step directions for creating many different dishes, this book contains recipes for solving problems concerning Enterprise JavaBeans. In this book, you will find recipes for many different types of problems, ranging from simple, everyday quick-reference type issues, to solving complex design issues using EJB patterns.
This book is intended for developers with at least some EJB development experience. With that in mind, you will not find recipes describing the basic construction rules of Session and Entity beans. We assume that you understand the concepts of enterprise development and the basics of EJB programming. In most cases, we laid the recipes by referencing problems and issues, avoiding the use of EJB keywords. For example, rather than looking up "design patterns," look up the actual problem you are trying to solve (for example, "Improving network performance").
The recipes in the book are self-contained, referencing other recipes that are related to the solution. We wanted to create a book that you could pick up and start reading at any point. The recipes are short and to the point so that you can read this book on the subway, your favorite coffee house, or whenever you find yourself with 5 minutes to spare.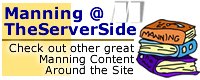 How you can help
The chapters of the EJB Cookbook are being made available for the purposes of review to allow the community to participate in the review and editing of the chapters of the book. Your comments and suggestions may make it into the final product, if appropriate. You can help us write this book, by correcting or enhancing the chapters. We will provide chapters in Word format, so you can make changes as you read along. Check the chapter header to learn how to submit feedback, or just send a note to jbsullins@att.net with your corrections and suggestions. The most helpful thing you could do is to suggest recipes that you think should be in the book. If we use one of your suggested recipes, we will credit you in the book.
The Authors
Ben Sullins is a senior Java developer and co-author of JMX in Action. Most of his development time is now spent in the mountains or with his family. He currently lives in Colorado.

Mark Whipple has 15 years of software development experience and has worked extensively with networked applications including monitoring applications utilizing SNMP and more recently JMX. He has participated on several standards bodies including the IETF. Mark holds multiple patents in the software area. He lives in Dallas, Texas.

Ben Sullins and Mark Whipple are the authors of the recently released Manning book, JMX in Action, reviewed here by TheServerSide members. You can order this book at Amazon and Manning Publications.