Book Chapters: J2EE Project Survival Guide
By Srikanth Shenoy, Viswanath Krishnan, Nithin Mallya and Jag Bhasin
11 May 2006 | TheServerSide.com
Table of Contents
1. J2EE in Practice
2. Physical Architecture

Part I - Application Services Framework

3. Introduction to Services Framework
4. Logging Service
5. Configuration Service
6. Scheduler Service
7. Business Rules Service

Part II - Presentation Tier

8. Basic Patterns in web-tier
9. Choosing your Presentation Framework
10. Navigation Control
11. Practical Considerations

Part III - Security

12. Security - Part 1
13. Security - Part 2
14. Security - Part 3

Part IV - Business Tier and Data Access

15. Patterns in the Business Tier
16. Business Tier Design - Part 1
17. Business Tier Design - Part 2
18. Business Tier Design - Part 3
19. Exception Handling

Part V - Lights, Camera, Action!!

20. Putting it all together
21. ClassLoaders and J2EE
22. Deployment considerations
23. Ant Build Strategies
24. Maven Basics
25. Advanced Maven
26. Testing
27. Production deployment, monitoring and support
28. Performance and scalability considerations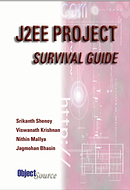 J2EE Project Survival Guide
What's New
February 20 - Chapter 1 - J2EE in Practice
First Review Posting
This chapter discusses issues involved in real world J2EE application development and how they differ from understanding the technology as such. It glosses over the characteristics of a J2EE project and provides a high level overview of steps involved in making J2EE projects successful.
Download and Review.
February 20 - Chapter 21 - Classloaders and J2EE
First Review Posting
A thorough understanding of classloaders is the basis for better partitioning, packaging and deployment of J2EE applications and for better architecture. This chapter sets the foundation.
Download and Review
February 20 - Chapter 22 - Deployment Considerations
First Review Posting
This chapter applies the classloader knowledge to arrive at good packaging disciplines for deployment and effectively partitioning the application at design time. A good packaging and deployment strategy isolates one J2EE application from another deployed in the same environment. It does so by giving due consideration to classloader hierarchies in J2EE, appropriate packaging and application partitioning, and controlling the dependency graphs - at class, package and system levels.
Download and Review.

The Book
Understanding J2EE technology is one thing. Applying it effectively and successfully to J2EE projects is a different story all together. Many questions arise as you apply J2EE in the real world. This book is the answer to all those questions. In the J2EE world, each scenario can be implemented in dozens of ways. The individual mechanisms for integrating these concepts together into a working application are more important. Once you know how to do it in one manner, you can easily deduce other ways and compare the pros and cons. This book is intended for developers and architects already familiar with J2EE, but want to improve their skills and get an in-depth view of strategies needed to make your J2EE project a success. The book points out various issues and then works on illustrating architectural and design concepts to address those problems.
How you can help
The chapters of J2EE Web Project Survival Guide are provided for you to participate in review and shaping this book. Your comments, suggestions and feedback are very important to the authors and ObjectSource. Please send them to book-comments@objectsource.com. Top 10 reviewers will get a free copy of the printed book.
The Authors
Srikanth Shenoy specializes in the architecture, design, development, and deployment of large J2EE and EAI projects. He has helped clients in the manufacturing, logistics, and financial sectors to realize Java's "write once, run anywhere" dream. He is the author of the book "Struts Survival Guide - Basics to Best Practices" published by ObjectSource Publications. He has written several articles on J2EE.
Viswanath Krishnan is an expert in Security. He has consulted for several Fortune 500 clients.
Nithin Mallya specializes in providing enterprise solutions for financial clients. He has built transaction intensive systems using various distributed object technologies. He has contributed to the book "Struts Survival Guide".
Jag Bhasin is the Vice-President of ObjectSeek Inc. He has worked on several engagements for e-government, publishing and financial clients.