Roo revamped
SpringSource released Roo 1.0.1, which includes better documentation for Eclipse users and improved usability around command hiding.
Looking for something else?
The SpringSource community has released Roo 1.0.1, the first update for a new rapid application development tool for Java. This release contains over 40 fixes and minor enhancements since the 1.0.0 release at the end of December. The most significant updates include improved usability around command hiding and better documentation for Eclipse users

Download this free guide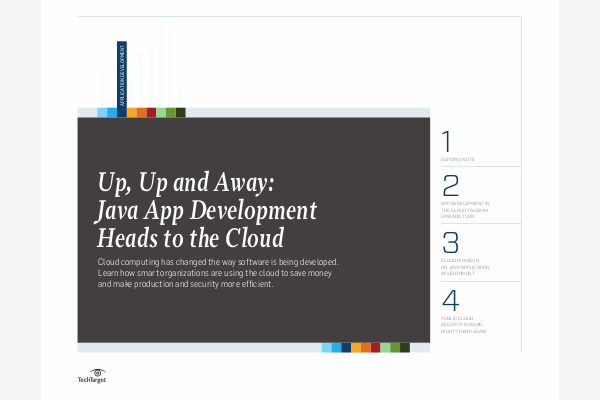 Free Handbook: Java App Development in the Cloud
Software engineers are approaching development and enterprise design in an entirely new way, thanks to the cloud. In this expert handbook, explore how your peers are leveraging the cloud to streamline app lifecycle management, save money, and make production and security more efficient.
By submitting your personal information, you agree that TechTarget and its partners may contact you regarding relevant content, products and special offers.
You also agree that your personal information may be transferred and processed in the United States, and that you have read and agree to the Terms of Use and the Privacy Policy.
Roo is a text based tool which promises to allow developers to create new applications in minutes. The design goal was to sustainably improve Java developer productivity without compromising engineering integrity or flexibility. If you don't like it, it is possible to remove Roo from your project in under 10-minutes, although you would have to maintain the code by hand.
The Roo team claims that it offers higher Java productivity than other tools and uses Java APIs and standards. No special runtime is required and there are no CPU, RAM or disk storage penalties incurred by Roo applications. Roo works with Java, the Spring Framework, Hibernate, and Maven.
The Roo team recommends using the SpringSource tool suite which supports the embedded Roo option. Eclipse also works, but does not provide the SpringSource Roo integration. It can also work with text editors. You just have to load Roo at the same time as the IDE or text editor, and Roo automatically detects changes made by the other tool.
Download Spring Roo here: http://www.springsource.org/roo
Dig Deeper on Spring framework
PRO+
Content
Find more PRO+ content and other member only offers, here.