Azul Systems® Announces Zing
Azul Systems®, the award-winning leader in solutions for business-critical Java™ applications, today announced the coming availability of Zing™, the industry's first elastic runtime platform for Java applications.
This Article Covers
RELATED TOPICS
Looking for something else?
Azul Systems® Announces ZingTM, the Industry's First Elastic Runtime Platform for Java Applications
Zing™ is the first pure software runtime to meet the scalability, efficiency, and availability needs of Java applications in virtualization and cloud deployments

Download this free guide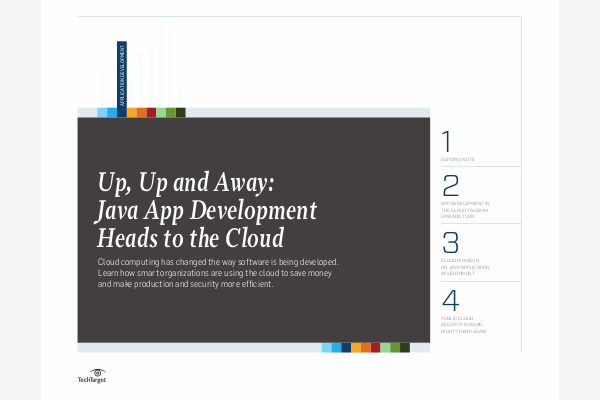 Free Handbook: Java App Development in the Cloud
Software engineers are approaching development and enterprise design in an entirely new way, thanks to the cloud. In this expert handbook, explore how your peers are leveraging the cloud to streamline app lifecycle management, save money, and make production and security more efficient.
By submitting your personal information, you agree that TechTarget and its partners may contact you regarding relevant content, products and special offers.
You also agree that your personal information may be transferred and processed in the United States, and that you have read and agree to the Terms of Use and the Privacy Policy.
Mountain View, CA, June 22, 2010 — Azul Systems®, the award-winning leader in solutions for business-critical Java™ applications, today announced the coming availability of Zing™, the industry's first elastic runtime platform for Java applications. Offering unprecedented levels of scalability and throughput, the Zing Platform shatters Java scalability barriers and enables existing Java applications to efficiently and reliably scale to dozens of CPU cores and hundreds of gigabytes of memory. Managed by an application-aware runtime resource controller integrated with industry standard virtualization management tools, Zing's elastic architecture automatically scales individual Java application instances up and down based on real-time demands, and dynamically maps and allocates resources based on configurable policies.
Zing is an ideal platform for high volume applications such as Web portals, trading platforms and e-commerce websites. It enables Java application instances to increase throughput up to 100x to withstand massive usage spikes while maintaining consistent response times, service availability and overall user experience.
Designed and optimized specifically for virtualized environments, the Zing Platform is ideally suited for deployments of Java applications in both public and private clouds. Zing's unsurpassed scalability turns traditional hypervisor overhead into a runtime advantage, boosting performance and significantly reducing the number of Java application instances needed to be deployed. Zing's novel elastic architecture dramatically improves server resource efficiency and utilization by automatically scaling individual instances up and down based on real-time demand and effectively sharing resources between instances dynamically.
"As enterprises deploy more resource-intensive Java applications, embrace virtualization and cloud initiatives, and replatform on higher capacity commodity servers, they need a new runtime platform architected specifically to meet these needs," said Scott Sellers, President and CEO of Azul Systems. "The Zing Platform provides unprecedented scalability, efficiency, and availability for all Java applications, and, for the first time, makes it all possible in virtualization and cloud deployments.
By allowing IT organizations to consolidate many small Java application instances into fewer, highly elastic and scalable instances, the Zing Platform creates a simpler, more robust Java infrastructure with greater efficiency, higher server utilization, and lower TCO. The greater efficiencies realized when deploying Java applications on the Zing Platform significantly reduce power, space, and management complexities associated with over-provisioned server infrastructure. Zing is fast and easy to incorporate into existing infrastructures, requiring no application coding changes.
Zing includes open source components from the Managed Runtime Initiative (www.managedruntime.org), and leverages technologies found in Azul's Compute Appliances, production-proven in mission-critical Java workloads worldwide. Zing will be available as a software package in the second half of 2010. For more information on Zing, please visit www.azulsystems.com
About Azul Systems
Azul Systems (www.azulsystems.com) delivers elastic runtime platforms with unsurpassed scalability, manageability, and production-time visibility for Java applications. By providing unparalleled compute and memory resources for throughput-intensive and QoS-sensitive Java applications, Azul enables organizations to dramatically simplify deployments, consolidate instances, increase capacities with predictable response times, and dramatically improve operating costs over traditional deployment models.
Dig Deeper on JVM performance tuning
PRO+
Content
Find more PRO+ content and other member only offers, here.