Evaluate
Weigh the pros and cons of technologies, products and projects you are considering.
IntelliJ IDEA: What's at Fluent 2014?
Learn about where IntelliJ IDEA is moving with JavaScript frameworks within their tool.
Looking for something else?
TECHNOLOGIES
If there is one thing the Russians do better than anyone else, it's build IDEs for the Java community. Given the fact that most Java developers would rather walk across hot coals than use a piece of software that wasn't GPL-licensed, it's amazing how all of these principled objections go out the window when it comes to their development tool of choice. Forget about the freely available NetBeans and Eclipse IDEs -- all of the best software developers in the community would much rather pay out of their own pockets than work with anything other than JetBrains' flagship product, IntelliJ IDEA.

Download this free guide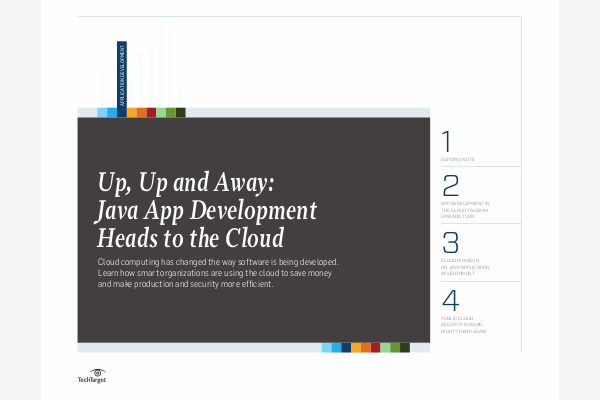 Free Handbook: Java App Development in the Cloud
Software engineers are approaching development and enterprise design in an entirely new way, thanks to the cloud. In this expert handbook, explore how your peers are leveraging the cloud to streamline app lifecycle management, save money, and make production and security more efficient.
By submitting your personal information, you agree that TechTarget and its partners may contact you regarding relevant content, products and special offers.
You also agree that your personal information may be transferred and processed in the United States, and that you have read and agree to the Terms of Use and the Privacy Policy.
So it will come as welcome news to all of those enterprise Java developers who have been forced to pick up various MVC-driven JavaScript languages, that IntelliJ is hot on their heels, providing various levels of support for Angular, Ember, Backbone and other JavaScript frameworks within their tool.
At O'Reilly's Fluent 2014 conference in San Francisco, TechTarget got an opportunity to chat with Utah native John Lindquist, an evangelist with JetBrains, who was promoting WebStorm, the powerful new JavaScript editor based on IntelliJ IDEA. Of course, Lindquist wanted to talk about more than just JavaScript editors, elucidating his take on everything from who is winning the JavaScript frameworks wars, to how NoSQL is changing the client side applications are built, to what is the most challenging part of creating a world-class IDE that supports all of these new JavaScript frameworks. Watch the accompanying video to hear Lindquest's various insights into the state of client-side, enterprise software development.
More on JavaScript and IDEs
HTML5 and JavaScript apps fall short
Understanding the fundamentals of JavaScript
Tutorial for using the JavaScript event model
JavaScript for iPhone apps
What is NetBeans?
IDEs becoming open source
What is Eclipse?
Dig Deeper on Integrated development environments
PRO+
Content
Find more PRO+ content and other member only offers, here.