From Tango to the NDK: Further exploration of the Google I/O exhibitors hall
Be it previews of products like Tango which create 3D images of your surrounding, to demonstrations of the Android Native Development Kit (NDK), the 2014 Google I/O conference and exhibitors hall was full of new and interesting technology to explore.
Looking for something else?
TECHNOLOGIES

PRODUCTS
The Google I/O exhibitors hall was an impressive display of innovative technologies that has evolved out of the Google ecosystem. In the first half of this article, we explored the various products and offerings that were highlighted by Google executives during opening and closing keynote speeches.

Download this free guide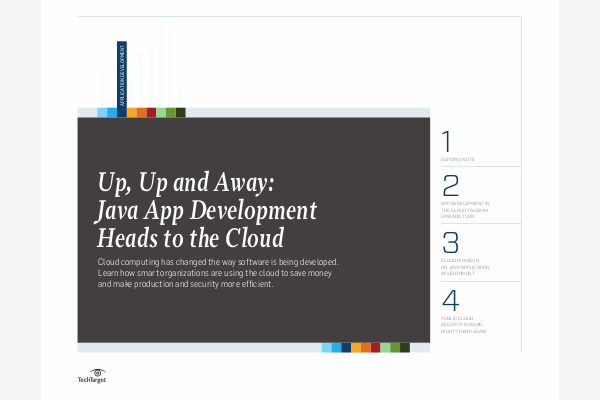 Free Handbook: Java App Development in the Cloud
Software engineers are approaching development and enterprise design in an entirely new way, thanks to the cloud. In this expert handbook, explore how your peers are leveraging the cloud to streamline app lifecycle management, save money, and make production and security more efficient.
By submitting your personal information, you agree that TechTarget and its partners may contact you regarding relevant content, products and special offers.
You also agree that your personal information may be transferred and processed in the United States, and that you have read and agree to the Terms of Use and the Privacy Policy.
Moving beyond the keynotes
But there was more to the exhibitors hall than just the products that were highlighted by keynoters. Here's a look at the batch of booths and featured Google products that weren't necessarily highlighted in any detail during the conference keynote, but were still capable of causing a bit of a stir on the exhibition hall floor:
Project Tango: This tablet or smart phone has two cameras in back to create a 3D image of its surroundings. Google I/O attendees were offered the opportunity to be notified when the unit goes on sale. The announced price for the unit is $1024 (exactly 1K dollars in US currency).
Classroom: Google's new learning management system. Classroom is comparable to the widely used Blackboard (commercial) and Moodle (non-commercial) systems.
Nest: Nest Labs makes thermostats, and smoke/carbon-monoxide detectors that integrate with smart phones. Google purchased Nest in January, 2014.
Go: Google's system programming language. Go's design addresses the dependency management problems in languages like C and the burden of heavyweight type systems in languages like Java. Go is fully garbage-collected and supports multicore processing. Go 1.3 was released on June 18.
Dart: An alternative to JavaScript. You can run Dart on a special web browser that has a Dart virtual machine. Alternatively, you can compile Dart to JavaScript and run the resulting code in any web browser.
Android NDK: The Native Development Kit allows developers to dig deeper than they do with Android's Java SDK. Using the NDK, developers write C or C++ code that cooperates with Android's Java code. Developers typically write C/C++ code in order to access very low-level hardware features or to gain an edge in app performance.
Google Glass: A corner of the exhibit floor had its own Glass Basecamp -- a place for discussing Glass, buying the device, getting fitted with Glass, and getting help with technical issues.
Wall of Startups: The wall displayed videos of interviews with successful founders. Next to the wall was a small, makeshift theater where entrepreneurs presented their thoughts to interested attendees.
Accessibility: An exhibit booth devoted to research, resources for developers, and initiatives for making the web available to all.
Some non-Google booths were provided by ESPN, Pinterest, Runtastic, EAT24, Hotel Tonight, game makers COLOPL and Rayark, and other vendors. Clearly the Google ecosystem is alive and well, especially if the level of innovation seen on the Google I/O exhibit floor is any indication.
Dig Deeper on Java development for cloud
PRO+
Content
Find more PRO+ content and other member only offers, here.