Mastering the Oracle Java EE 5 Enterprise Architect exam
A longtime Sun Microsystems course instructor gives his tips on taking and passing the Oracle Java EE 5 Enterprise Architect exam.
This Article Covers
RELATED TOPICS
Are you thinking of taking the Oracle Certified Java EE 5 Enterprise Architect Exam? Here are some tips from Michael Ernest, the owner of Inkling Research and a Sun Microsystems course instructor for over 15 years, who spoke at TheServerSide Java Symposium on Thursday.

Download this free guide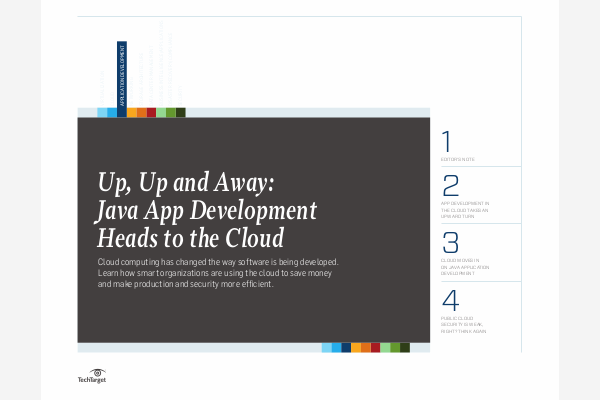 Free Handbook: Java App Development in the Cloud
Software engineers are approaching development and enterprise design in an entirely new way, thanks to the cloud. In this expert handbook, explore how your peers are leveraging the cloud to streamline app lifecycle management, save money, and make production and security more efficient.
By submitting your personal information, you agree that TechTarget and its partners may contact you regarding relevant content, products and special offers.
You also agree that your personal information may be transferred and processed in the United States, and that you have read and agree to the Terms of Use and the Privacy Policy.
The exam has three components
Multiple-choice knowledge exam: Tests you on scenarios for applying Java EE 5 technologies and J2EE core patterns
Business case assignment: Design a software solution for a complex business case. Using various UML diagram forms is required.
Essay exam: Defend the business case solution
Sample question
Which of the following technologies guarantees message delivery?
A) JMS
B) RMI
C) COBRA
D) JavaMail
"When I look at this, the reason I get my undies in a bunch is that JMS isn't messaging, it's just a client-side API," Ernest said. "So a very detailed and precise attention to the knowledge here won't necessarily serve you well."

Exam dos
Know each component of Java EE, what it does, how it does it and how like approaches compare to each other
When you receive your problem set, plan it in three stages a week each. Spend two days minimum on breaking it all down.
Ernest's advice: Throw your first solution away and then come back to it later, you'll end up adding something you forgot in the first solution
Exam don'ts
Don't obsess on UML (or HTML). Get your ideas in diagram form first
The Cade & Sheil study guide is a guide to doing, not passing. But catalog their use of technology terms fully
Don't collaborate on the business problem with others. It's easier to spot cheating than you think