Simplified ORM configuration with Spring, JPA and Hibernate path scanning
Configuring Spring, JPA, Hibernate or other ORM technologies can be a challenge. One way to simplify ORM configuration is to configure package scanning for entity classes.
Looking for something else?
TECHNOLOGIES
A challenge when developing applications that use object-relational mapping (ORM), a common approach is to list each @Entity decorated Java class programmatically either in the configuration file or within the class that creates the ORM session. However, ORM configuration can be simplified by using a common feature known as package scanning.

Download this free guide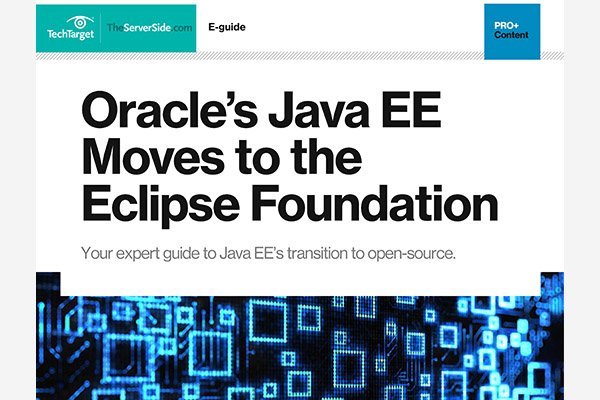 Download now: Java EE moves to the Eclipse Foundation
What are application developers and market analysts saying about Oracles decision to move Java EE to the Eclipse Foundation? What will this change? Find out here.
By submitting your personal information, you agree that TechTarget and its partners may contact you regarding relevant content, products and special offers.
You also agree that your personal information may be transferred and processed in the United States, and that you have read and agree to the Terms of Use and the Privacy Policy.
Standard JPA configuration
A typical configuration file might look something like this, which isn't too bad with only three entities, but it's not difficult to imagine the configuration getting extensive.
<persistence>
<persistence-unit>
<class>com.theserverside.entities.Team</class>
<class>com.theserverside.entities.Player</class>
<class>com.theserverside.entities.Fan</class>
</persistence-unit>
</persistence>
Simplified JPA and Hibernate configurations
One option available using JPA is to scan JAR files for entities using the sensibly named jar-file entry:
<persistence>
<persistence-unit>
<class>com.theserverside.entities.Team</class>
</persistence-unit>
</persistence>
Configuring Spring
Of course, the best configuration is one that does complete scanning. This can be achieved by setting the exclude-unlisted-classes JPA entry to false in standard Java EE applications. And it's just as easy, if not easier when using Spring. With Spring, configuration file can be edited with the following entry to force package scanning of @Entity decorated classes, rather than forcing a listing of all classes:
<bean id="entityManager"
class="org.springframework.orm.jpa.LocalContainerEntityManagerFactoryBean"
p:packagesToScan="com.theserverside.entities" />
In this example, any classes in the com.theserverside.entities package will be found and managed at runtime by the ORM container.
There is of course always the potential that an entity will end up being created outside of a listed package, and ORM problems will be encountered at testing, but by using the package or JAR scanning features, developers greatly reduce the number of times they need to edit ORM configuration files.
Dig Deeper on Spring framework
PRO+
Content
Find more PRO+ content and other member only offers, here.