Build a cloud computing enterprise architecture strategy
Learn to steer clear of challenges when preparing your enterprise architecture for cloud computing.
FROM THE ESSENTIAL GUIDE:
The enterprise landscape has changed significantly over the past few years. The driving force behind that change is cloud computing enterprise infrastructure. Cloud is real; it is not just a fad. Cloud is a reality here today -- not a vision of what may come. Cloud really is changing the way applications are being developed, the way hardware gets provisioned and how enterprise architecture will be designed.

Download this free guide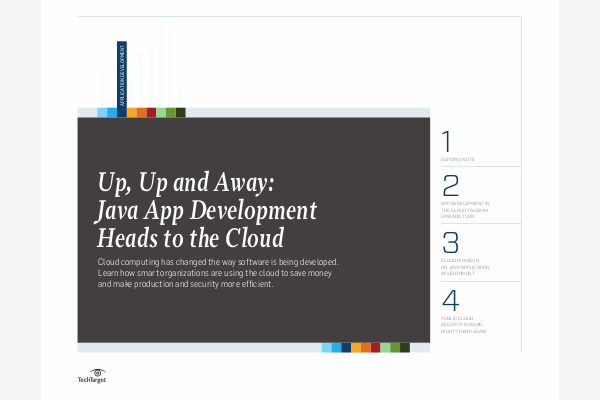 Free Handbook: Java App Development in the Cloud
Software engineers are approaching development and enterprise design in an entirely new way, thanks to the cloud. In this expert handbook, explore how your peers are leveraging the cloud to streamline app lifecycle management, save money, and make production and security more efficient.
By submitting your personal information, you agree that TechTarget and its partners may contact you regarding relevant content, products and special offers.
You also agree that your personal information may be transferred and processed in the United States, and that you have read and agree to the Terms of Use and the Privacy Policy.
All IT professionals should prepare for the changes that cloud computing is carrying into the enterprise. This quick twenty-minute lesson is designed to help you build a plan for engaging with cloud-based technologies that will help you minimize the risks and maximize the gains of adopting a cloud model.
Your professor for this lesson in the cloud classroom of Java University is Cameron McKenzie, editor in chief of TheServerSide.com and author of several books on Java development, including Hibernate Made Easy and JSR-168 Portlet Development Simplified. His simple message for CIOs, CEOs, developers and architects is that cloud technology is not just a buzzword. Cloud will continue to gain ground, becoming first prevalent and then pervasive. Forward looking IT pros will get ready for a cloud computing enterprise architecture now, while it still brings a competitive advantage and before it becomes a minimum requirement.
McKenzie covers the definition of the nebulous term cloud, the logical evolution of computing power from home-grown to utility, the phantom fears, uncertainty and doubt around cloud computing, common places where we're already using cloud, and the very real risks of shadow IT creeping up where cloud policies have not yet been established. He'll also present strategies and best practices for reducing many of the risks around using cloud services, choosing a first cloud use case for your organization, and migrating applications into the cloud.
What did you think of this lesson? How can we make future Java University lessons more valuable for you? Let us know.
PRO+
Content
Find more PRO+ content and other member only offers, here.