 BACKGROUND IMAGE: iSTOCK/GETTY IMAGES
Application developers make a difference with custom software
Using custom software and commodity hardware, the application developers at the SpeakYourMind Foundation give a voice to victims of paralysis.
Application developers can make a huge difference, not just in the enterprise or business world, but in the lives of individuals. The SpeakYourMind Foundation sets developers to work for people who -- because of neurological injury or disease -- have severe difficulty communicating.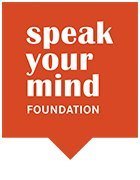 According to Dan Bacher, founder and executive director at SpeakYourMind, there are existing alternative and augmentative communication (AAC) solutions out there, but they are prohibitively expensive for most individuals. As a not-for-profit organization, the SpeakYourMind Foundation's mission is to cut the expensive hardware costs to individuals with locked-in syndrome through lower cost custom software solutions that can run on commodity hardware.
"We want it to be as low cost as possible," said Bacher. SpeakYourMind has been working to integrate inexpensive technologies like the Kinect to make it less expensive and more convenient to provide assistive communication technologies to minds and bodies that need them. Bacher wants to promote the development of better AAC systems that fit the communication needs of all paralysis sufferers, where today he sees efforts split into pockets based on specific causes such as brain stem stroke, motor neuron disease or severe spinal trauma.
Bacher's approach has been to develop custom software solutions on a client-by-client basis. "Right now it's a very bottom-up process," he said. Many of the developers working for SpeakYourMind are students, interns or young professionals who are donating their efforts. As such, each project needs to get started and show results pretty quickly. The developers on the project may only have one semester and a variety of other commitments to work around. So it's important that they don't waste any time with theoretical design efforts that will later get scrapped.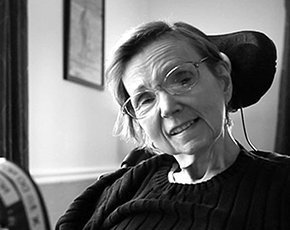 This is Cathy, one of the lives bettered by the
SpeakYourMind Foundation's custom software efforts.
Bacher said there is a huge push to "get the prototype in front of the client as soon as possible and integrate their feedback right away." In fact, Bacher said they often approach clients as team members and said that "their input and feedback about how to make the software better is almost just as important as our developers' efforts to write the code."
The development model is to assign each new client's project out to a two-person team of volunteer developers. Those two meet with the client and assess needs and capabilities of the particular client. Generally, the design will start with one of a few potential access methods that have already shown success. Each client's solution is then tailored from a combination of the best fit among the existing tools and new custom software. Each new solution and its components are then added to the foundation's growing software portfolio so future developers have more to draw on.
Although it's not ready for public consumption yet, Bacher said he wants to streamline that portfolio and create an open source project around it. "In many ways," he said, "we're crowdsourcing our development already. I want that to continue and to be as open and collaborative as possible." However, Bacher does have some concerns about opening the project up. He fears an open source project may outpace its ability to support each individual along the way.
Right now, SpeakYourMind is dedicated to ensuring that every client and their families have someone to turn to when it comes to supporting the AAC systems they've designed. "A big part of it is having a representative from the team go to them and show them how to use it," Bacher said. An open source project might quickly scale out beyond the foundation's ability to provide that personalized service that Bacher said is really important -- especially with adult trauma victims who are relearning a basic form of communication.
Want to contribute to the effort?
Bacher says the SpeakYourMind Foundation is actively seeking donations and contributions from developers of all skill levels. From those on the ground developing and delivering AAC systems to experienced open source project leaders that can help organize the communication between teams, increase the modularity of project components, help ease the pressures of application portfolio management or help out with anything in between. Contact the foundation here.
Have your own cool development story? We'd love to hear it. Feel free to let us know about it via email, ping us on Twitter @TSS_dotcom or submit a post to our newsfeed.
Dig Deeper on Software development techniques and Agile methodologies