Public cloud vs private cloud vs hybrid cloud
As an enterprise architect, you already know you're going to adopt cloud architecture. Will it be public cloud, private cloud or hybrid cloud?
For organizations that know they need to begin to use cloud services, the next step is making a decision on public cloud vs private cloud vs hybrid cloud. Private cloud means users connected to on-premises resources, either locally or via remote connection, but with secure connections and with resources under the control of IT. Public cloud means users connect to outside services that are provisioned on a cost-per-use basis by a cloud service provider such as Google or Amazon. A hybrid cloud model uses both private cloud services for some purposes and public cloud services for others.

Download this free guide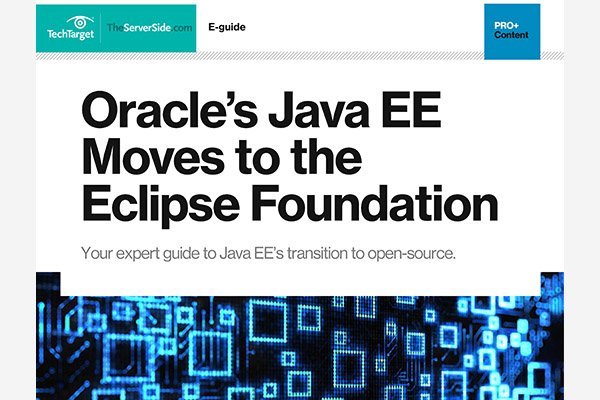 Download now: Java EE moves to the Eclipse Foundation
What are application developers and market analysts saying about Oracles decision to move Java EE to the Eclipse Foundation? What will this change? Find out here.
In this video, your professor will be Bill Claybrook. Our topic will be private cloud vs public cloud vs hybrid cloud. What are the features, costs and benefits of these three cloud models? We will examine the key points of building a strategy to decide on a cloud path and take the first few steps down it.
A pros-and-cons analysis reveals that when comparing private cloud against public cloud, enterprise architects see advantages such as security and control, but also drawbacks such as high initial costs in terms of investment in skills and hardware. Organizations that choose a private cloud strategy will need to consider a list of key decision points that includes planning specific use cases for the cloud and looking forward to deeper and broader uses for the cloud that might use some public cloud services to reduce costs.
On the other hand, looking at reasons to go with public instead of private cloud, organizations can get into the services with much less upfront investment in hardware and skills, which can translate into reduced time to market and increased flexibility. Still, security issues and reliability concerns cannot be overlooked. Uncertainty about long-term costs can also be a reason to be cautious about moving into the public cloud. Some key decision points for the public cloud include comparing total cost of ownership with existing IT and with potential private cloud models, deciding what applications can be moved to the cloud safely and without undue effort, watching out for vender lock-in and ensuring that the new changes do not alienate the existing IT department.
Many organizations plan to get to a hybrid cloud model eventually. The hybrid cloud can potentially enable IT organizations to take advantage of the benefits of both public and private cloud services, but also avoid some of the drawbacks. It grants access to both public and private assets for greater flexibility and scalability with less resource overcapacity. However, privacy and security are still a concern. Complications can also arise due to a lack of cloud standards for application programming interface (API) compatibility, data availability and data ownership.
When looking at hybrid cloud strategies, enterprise architects will want to consider many of the same points as with private cloud and public cloud. Which is the right use case for which cloud services? How can the highest degree of API interoperability be achieved? Is it worthwhile to wait for emerging cloud standards? How will security and compliance issues be handled? It is also important for hybrid cloud engineers to understand the importance of service-level agreements.
Dig Deeper on Java development for cloud