Evaluate
Weigh the pros and cons of technologies, products and projects you are considering.
Trending JavaScript frameworks at Fluent
The co-chair of Fluent discusses which JavaScript frameworks are the most popular at this year's conference.
When it comes to learning about the latest trends and advancements in client-side, browser-based technologies, there's no better place to go than O'Reilly's Fluent, a conference that prides itself on spotlighting the emerging methods, tools and technologies of the Web platform, including JavaScript frameworks, HTML5, CSS level 3, and more. TheServerSide managed to catch up with a very busy Simon St. Laurent, the co-chair of Fluent 2014, on the final day of the conference.

Download this free guide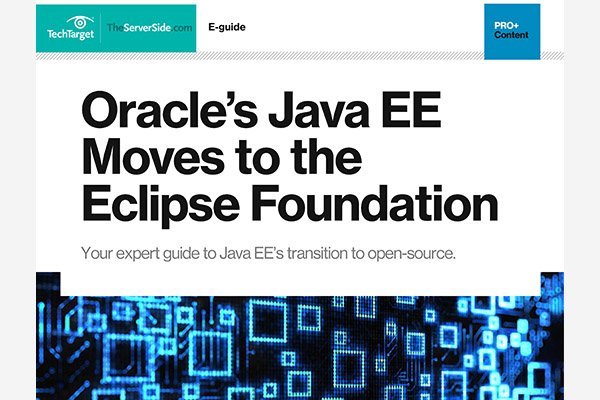 Download now: Java EE moves to the Eclipse Foundation
What are application developers and market analysts saying about Oracles decision to move Java EE to the Eclipse Foundation? What will this change? Find out here.
Getting to see the various extracts industry experts submit for something like O'Reilly's Fluent gives the conference chairs and organizers a unique perspective into which topics are hot, which technologies are emerging, and which tools are gaining the most traction with users and developers. According to St.Laurent, AngularJS is certainly holding the title as the most popular JavaScript framework at Fluent 2014, but in terms of who is winning the JavaScript wars, he says it is far too early to declare a winner: "Ember and Backbone and some newcomers could change the story. I'm curious in seeing what happens with the JavaScript framework React, for instance."
He provided answers to the following three questions:
Who is winning the JavaScript frameworks wars?
How are enterprise, legacy Java and .NET developers dealing with the switch to JavaScript based technologies?
What progress has been made in developing robust testing and easy-to-use continuous integration tools that help in managing the application lifecycle of JavaScript based applications?
Watch the full interview to hear St.Laurent's take on the latest trends impacting the enterprise Web platform.
Dig Deeper on Client framework