Ajax in Action excerpt: Using the Model to Generate the View
This white paper takes an in-depth look at the open-source tools that can be used to get started on Web services development. In the application, it is shown how an existing Java asset is exposed as a Web service interface through the entire development lifecycle.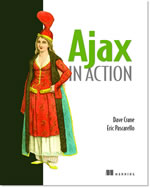 This is the third in a three-part series of excerpts of Manning's Ajax in Action Chapter 4. This is the first of three chapters that apply refactoring and patterns to the client-side codebase. You won't see much of the asynchronous requests that give Ajax its name in this chapter, but the style of programming being discussing here is a direct consequence of being able to make asynchronous requests.
Dividing the codebase into three discrete layers using MVC makes the JavaScript code in an Ajax application more ordered and maintainable, but it also results in a certain amount of overhead of communication between the tiers. In this installation, we look at a way of reducing this overhead by generating the View layer automatically from the Model.
Download Ajax in Action - Chapter 4, Part 3
For more information on Ajax in Action go to www.manning.com/crane.
Biographies
Dave Crane holds degrees in Chemistry, Parallel Computing, and Ecological Economics from Edinburgh University in Scotland. He has worked with Internet technologies for the last ten years, primarily with Java technologies such as J2EE, Jini and Jython. He has pushed the boundaries of DHTML, and latterly Ajax, since 1997, in web site design, on early Digital TV set-top boxes and in home automation systems. Most recently, he has been senior developer for Smartstream Tchnologies Ltd., developing highly-interactive Ajax-based application frameworks that are currently in use in many tier-1 banks and financial institutions worldwide. Dave lives in Gloucestershire, UK.
Eric Pascarello graduated from Penn State University in 2002 with a B.S. in Mechanical Engineering. Since then Eric has been employed as a Senior Developer working with enterprise level applications in ASP.NET. Eric has also written "JavaScript: Your visual blueprint for dynamic Web pages (2nd ed)". Eric volunteers his free time as a moderator of the HTML and JavaScript forum at www.JavaRanch.com, a friendly online community dedicated to helping people learn Java and other web technologies. He lives in Laurel, MD.
Darren James is the architect of the opensource Rico project. He lives in Sunnyvale, CA.
PRINTER FRIENDLY VERSION


Dig Deeper on Ajax Web development and Java client programs