OCAJP Java 7 Exam Expected in March 2012? OCPJP to Follow?
Highly anticipated, the new Oracle certification for Java, OCAJP, went out of beta on December 17th, 2011. So when will the new exam be released? And when will the OCPJP exam be released?
Oracle's new OCAJP Java certification, a replacement of the former SCJA certification from the Sun days, is tentatively set to launch in March of 2012.

Download this free guide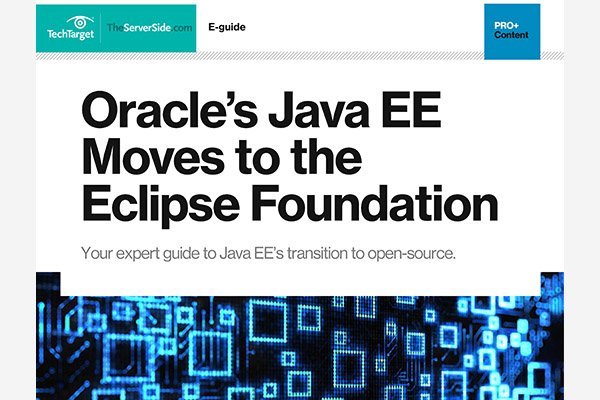 Download now: Java EE moves to the Eclipse Foundation
What are application developers and market analysts saying about Oracles decision to move Java EE to the Eclipse Foundation? What will this change? Find out here.
By submitting your personal information, you agree that TechTarget and its partners may contact you regarding relevant content, products and special offers.
You also agree that your personal information may be transferred and processed in the United States, and that you have read and agree to the Terms of Use and the Privacy Policy.
OCAJP In Beta Review Phase
Representing a drastic new change in how Java developers earn their coveted designations, the Oracle Certified Associate Java Professional (OCAJP) certification exam closed its Beta phase testing on December 17th, 2011. The Java SE 7 Programmer I test, as the OCAJP exam is referenced on the Oracle website, is currently in its Post Beta Review phase, where Oracle employees working in the certification and training branch of the company examine the results of the beta testing, refine which questions are best suited for evaluating Java proficiency at this level, while tossing out questions that were poorly received by the beta test takers.
Three months between beta and final
Oracle approximates eleven weeks for the Post Beta Review phase to complete, but the beta exam did close just prior to Christmas of 2011, so the real work on this exam might not pick up steam until early 2012. So, a safe approximation of the date on which the OCAJP exam will go live would be late March to early April.
As far as the OCPJP exam goes, the exam itself still hasn't been released in its beta phase, let alone going through the three month beta review phase. Expect the beta for this exam to go live sometime in the next eight weeks, which means the final product should be available in late spring to early summer. However, for those who already have a Java professional certification, you can always tackle the upgrade exam, which tests on new language features such as the enhanced switch statement, binary notation, numeric underscores, try with resources, and new API libraries such as the JDBC 4.1 APIs, concurrency, localization and Java File I/O (NIO.2).
A New Approach to Java Certification
It will be interesting to see how this new Java testing strategy from Oracle will be received. The classroom training requirement Oracle put in effect for their rendition of the Architect designation greeted a great deal of furor in the programming community, although Oracle has stated definitively that no official training requirementwill be placed on OCPJP or OCAJP candidates, so this is a positive step. However, this will be the first time that a prior exam must be passed, in this case the OCAJP exam, before being allowed to tackle the highly coveted OCPJP exam, which gives the successful test taker the Progammer designation.
Regardless, given the new direction in certification, and the fact that passing this exam is the new requirement in order to progress in your certification quest in the field of Java programming, there is no doubt that in 2012, the Java Associate certification from Oracle will be more popular than ever.
Check out these other tutorials from TheServerSide's Sal Pece and Cameron McKenzie covering the new Java 7 features:
New Java 7 Features: Binary Notation and Literal Variable Initialization
New Java 7 Features: Numeric Underscores with Literals Tutorial
New Java 7 Features: Using String in the Switch Statement Tutorial
New Java 7 Features: The Try-with-resources Language Enhancement Tutorial
New Java 7 Features: Automatic Resource Management (ARM) and the AutoCloseable Interfact Tutorial
New Java 7 Features: Suppressed Exceptions and Try-with-resources Tutorial
Java 7 Mock Certification Exam: A Tricky OCPJP Question about ARM and Try-with-Resources
OCAJP Exam to Debuts in March 2010. OCPJP Released in June?
OCPJP & OCAJP Java 7 Exams: Oracle Drops the Training Requirement
OCAJP and OCPJP Changes for Java 7: New Objectives, a Format Change and a Price Hike
Learning Resources for the Java and Java 7 Certification

OCP Java SE 6 Programmer Practice Exams (Exam 310-065) (Certification Press)
OCP Java SE 7 Programmer Study Guide (Certification Press)
SCJP Sun Certified Programmer for Java 6 Exam 310-065
A Programmer's Guide to Java SCJP Certification: A Comprehensive Primer (3rd Edition)
SCJA Sun Certified Java Associate Study Guide for Test CX-310-019, 2nd Edition
Dig Deeper on Java Development Tools