2013 Java trends: The cloud floats into Java application development
Cloud computing architectures are having wide-reaching effects on Java application development. Here are five hot trends in cloud computing for 2013.
Doesn't it seem like just yesterday when cloud computing was born? In today's accelerated environment, the cloud is already entering its adolescence. Over the next year, Java application developers can expect to experience growing pains as companies learn even more about the importance and potential limitations of scalability. There are plenty of hormonal mood swings on the horizon as enterprises continue their love/hate relationship with the cloud. Java cloud computing pros can expect lots of safety issues to navigate as well. Here are five of the trends we suspect will make 2013 a year to remember for cloud computing and Java application development.

Download this free guide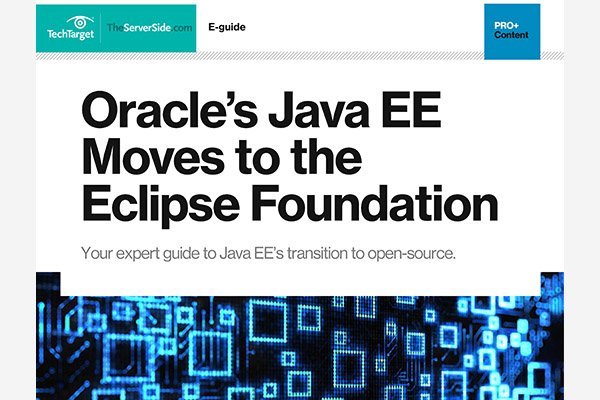 Download now: Java EE moves to the Eclipse Foundation
What are application developers and market analysts saying about Oracles decision to move Java EE to the Eclipse Foundation? What will this change? Find out here.
Enterprises will experiment more with cloud computing resources
Businesses that want to remain competitive in 2013 know they must continue to innovate with their enterprise software development -- especially with mobile changing the rules. This means development needs to get faster and less expensive. Testing is one area of development where cloud scalability has obvious implications for managing costs. But everything from collaboration to source code and issue tracking is ripe for migration.
Mark Driver, vice president of research at Stamford, Conn.-based Gartner Inc., said the risky business of experimentation will seem more attractive as businesses move development activities to the cloud. "Projects can begin on a lighter budget. The people who are funding development teams tend to be more willing to try something because they don't have to commit six figures of resources or budget up front. They can give it a try. If it doesn't work out in a couple of months, OK. They didn't spend that much money. If it does work, they can ramp up the project and move forward."
Personal cloud will add to BYOD challenges
In this brave new world, Java developers don't just have to worry about the security sieve of bring your own device (BYOD) from the perspective of what's on the device itself or how to manage security across a range of different devices. Protecting enterprise data and enterprise apps from other apps that have been downloaded to an employee's personal device will also be part of the battle. The ubiquitous presence of personal clouds, which employees want to use for both personal and work purposes, is an additional threat.
File sharing and the use of personal email accounts to send business documents is just the tip of the iceberg. If your apps themselves are exposed to side channels via a personal cloud (which is always a public cloud), that poses an entirely different problem. Unless it is designed to resist decompilation efforts, a business app in the wrong hands could provide backdoor access to your servers. While policies dictating what can and can't be shared via the cloud are a good idea, IT will have to put network, software, and data safeguards in place to actually prevent such actions.
Hybrid will become the new normal
Perhaps the hybrid cloud model should be renamed the "enterprise cloud." Public cloud was dismissed early on as incompatible with the needs of large organizations because it doesn't offer enough control. But the rush to implement private clouds as the ideal alternative has proven that a solely internal solution isn't really going to cut it either. In fact, the private cloud has been compared to little more than souped-up virtualization. It makes more efficient use of resources, but it still means a substantial up-front investment and requires the organization to make guesses about future capacity requirements.
Sadly, enterprises are going to have to do the hard work of creating the blended solutions that will capture the flexibility and cost savings of public cloud while keeping some processes inside the more protected private cloud. This is likely to include deploying less-sensitive applications in the public cloud and bursting certain activities as needed. We can expect to see more big businesses finally "growing up" about the fact that the cloud will never be a simple solution -- but are embracing it as a rewarding one, nonetheless. On that note, cloud aggregators who can do the heavy lifting of putting together hybrid cloud packages and delivering them via a single interface for IT to manage will probably have a boom year.
Burgeoning user population will test the cloud to its limits
Mobile and cloud seem born for each other. After all, they both offer the promise of being able to access applications, data and computing power anywhere at any time. But problems arise when every single mobile device user in the world wants to play the latest downloadable game at the same damn time. Jim Farrell, a product marketing professional at Joyent, believes that businesses are going to have to take a hard look at the platform they are using if they want to be able to scale cost effectively in the cloud.
"Free or very cheap mobile devices are now available in India and other places in Asia. The number of mobile users, Internet connections and concurrent connections are all changing dramatically right now," Farrell said. "Enterprises are used to being able to predict stuff. Now, they're going to have a hard time. They need to embrace not only cloud, but open source technologies that allow them to scale differently."
Farrell pointed to Node.js as a platform that can accelerate mobile by ensuring cloud memory and CPU usage is as efficient as possible. With big players like Wal-Mart and LinkedIn already on board the Node train, it's likely other enterprises will take an interest in clouds that can perform well when traffic spikes to previously unimagined levels.
Businesses will tighten cloud spending
Like a college student with their first credit card, IT has gone hog-wild with spending in the cloud in some organizations. Then Dad (the CFO) got a look at the bill and freaked out. Consumption-based spending doesn't save money if you consume to excess. After experiencing a brief honeymoon period of apparent cost savings, enterprises are getting around to taking a closer look at month-to-month spending.
2013 is likely to be the year when businesses throttle back and stop gorging on cloud services. Instead, they will demand more accountability internally for how services are consumed. IT will be leveraging all the tools at its disposal, including detailed monitoring and automated provisioning/de-provisioning to spend its budget more strategically in the cloud.
What do you think of these trends in Java and cloud computing? What will be the most important area to watch in 2013 and beyond? Let us know.
More Java trends for 2013
Dig Deeper on Java cloud platforms