Evaluate
Weigh the pros and cons of technologies, products and projects you are considering.
8 AngularJS questions with Mark Bates
TheServerSide got a chance to chat with Mark Bates, a freelance software developer, about AngularJS.
At O'Reilly's 2014 Fluent Conference in San Francisco, TheServerSide got a chance to chat with Mark Bates, a freelance software developer and author of the popular book, Conquering the Command Line (erroneously called Mastering the Command Line during the accompanying podcast). Of course, TheServerSide wasn't interested in Bates' knowledge of Bash and Korn shells. What we wanted to talk to Bates about was the three-hour classroom he was facilitating on the topic of AngularJS. It seems that ever since Google threw their weight behind this popular model-view-controller (MVC) framework, everyone has been jumping on the bandwagon. So we threw the following eight questions at Bates, which was all we could fit into our allotted fifteen minutes of interview time. Listen to the podcast to hear how this AngularJS expert responds to the following questions:

Download this free guide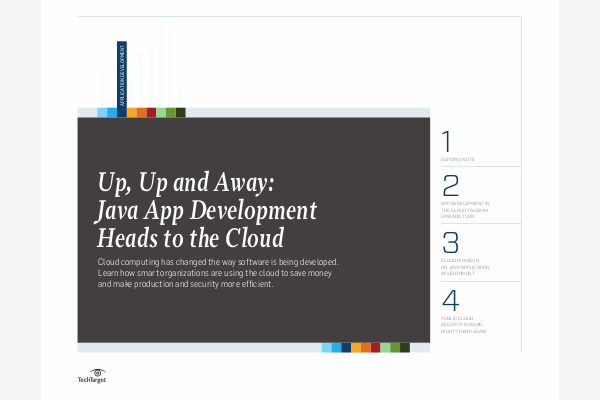 Free Handbook: Java App Development in the Cloud
Software engineers are approaching development and enterprise design in an entirely new way, thanks to the cloud. In this expert handbook, explore how your peers are leveraging the cloud to streamline app lifecycle management, save money, and make production and security more efficient.
1. Why is everyone talking about AngularJS?
2. Are we witnessing a massive shift away from server-side development in favor of client-side JavaScript, and if so, why is this happening?
3. What makes AngularJS so popular when there are so many other competing MVC-based JavaScript frameworks on the market?
4. How do you deal with the common complaint that JavaScript simply isn't an enterprise strength language for doing software development?
5. What should Java developers on the back end be doing to ensure they are creating services that can easily be consumed by Angular-based front ends running on the client?
6. What are the key tools that an AngularJS developer needs to have installed in order to be productive with the framework, and please don't tell us "the command line and VIM?"
7. How do you deal with the allegation that JavaScript frameworks lack a mature testing model?
8. What are the traits that characterize a high-quality test suite?
The popularity of AngularJS is increasing rapidly. If you want to get a better understanding of why more and more projects are incorporating this JavaScript framework, give the podcast with AngularJS expert Mark Bates a listen.
Dig Deeper on Client framework