The things you need to know about managing cloud data
Cloud storage and cloud data emptied the server rooms and placed them in the care of a third-party provider at an off-site location. It's added a layer of insecurity to data that was once an afterthought. Data stored locally was less likely to get hacked, although it wasn't impossible. Now, we transmit data through our internet connection that's sometimes wired and sometimes isn't to save it in the cloud. This process has its risks. Then, there's the fact that data breaches are more likely with cloud storage. Here's what you need to know about storing data in the cloud.
Know your cloud data enemy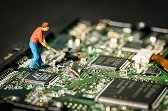 It's difficult to get an exact identification of who hackers really are. They're excellent at cloaking their information as they make their attempts on your cloud storage. What you can do is identify the type of attacks that are common and uncommon and use that information to create a defense. Enable your IT department and give them funds to buy tools that stop hacking in its tracks. Encourage them to investigate and educate themselves on the latest hacking methods. A well-informed IT department is an effective one when it comes to keeping sensitive cloud data secure.
Learn from the cloud data mistakes of others
The news is full of stories involving large corporations and data breaches. One of the most egregious recent breaches involved Equifax, a consumer credit reporting agency. Hackers were able to feed on the Equifax databases for almost two months before the agency did anything about the issue. Sadly, the breach could have easily been avoided had Equifax put the slightest bit of focus on its own security protocols. However, those in charge at the company decided to not invest in its IT department and security measures, which is a decision that violated the trust of everyone who has a credit score. The fallout is still ongoing, and it still remains to be seen what will happen to Equifax after the dust settles.
Be vigilant about cloud data security
Hackers are attracted to cloud storage because it's essentially a honey pot of potential targets. Cloud service providers host multiple companies at any given time, and each company uses different security measures outside of what's provided by the cloud provider. This means a hacker has to put in less effort to find a vulnerable database.
Don't make it easy for a hacker to gain access to your sensitive information. Use every last tool at your disposal to lock down information on the cloud. Cloud access security brokers, multi-layer authentication, and monitoring of access are your best lines of defense against a hacker. Use them as soon as possible, and keep on top of the latest updates to make it as difficult as possible for hackers.
Cloud computing is here to stay. The benefits far outweigh the disadvantages, but organizations should never overlook security. Minimize the potential for a catastrophic data breach, and you'll find that hackers won't waste their time on your files.