News
Stay informed about the latest enterprise technology news and product updates.
Expert advice for JavaOne 2017 first-timers
If JavaOne 2017 is your first time attending the conference, it will serve you well to follow some advice and insights from a veteran attendee of the JavaOne and OpenWorld conferences.

Download this free guide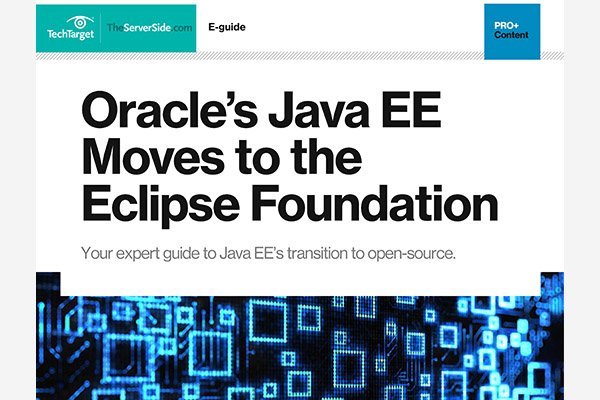 Download now: Java EE moves to the Eclipse Foundation
What are application developers and market analysts saying about Oracles decision to move Java EE to the Eclipse Foundation? What will this change? Find out here.
The first piece of advice, for which it is currently far too late to act upon, is to make sure you've got your hotel booked. Barry Burd wrote a JavaOne article for TheServerSide a couple of years ago that included some insights on how to find a last minute hotel in San Francisco that isn't obscenely far from the venue, although given the limited availability when I did a quick search on Expedia earlier this week, I'd say you'd be lucky to find a hotel in Oakland or San Jose for a reasonable price, let alone San Francisco.
Schedule those JavaOne 2017 sessions
For those who have their accommodation booked, the next sage piece of conference advice is for attendees to log on to the JavaOne 2017 session scheduler and reserve a seat in the sessions you wish to attend. Adam Bien's session on microservices, Java EE 8 and the cloud is already overbooked. The Java platform's chief architect Mark Reinhold's talks on Jigsaw and Java modules already has a wait list, and the ask the Java architects session with Oracle's Brian Goetz and John Rose is at capacity. The longer you wait to formulate your schedule, the fewer the sessions you'll have to choose from.
When choosing session, I find the speaker to be a more important criteria for discernment than the topic. Most speakers have a video or two up on YouTube of them doing a presentation. Check those videos out to see if the speaker is compelling. An hour can be quite a long time to sit through a boring slide show. But an exciting speaker can make an hour go by in an instant, and if you're engaged, you're more likely to learn something.
Skip the Oracle keynotes
One somewhat contrarian piece of advice I'm quick to espouse is for attendees to skip the Oracle keynotes, especially the morning ones. That's not to say the keynotes are bad. But getting to the keynotes early enough to get a seat is a hassle, and you can't always hear everything that's being said in the auditorium. A better alternative is to stream the keynote from your hotel room, or better yet, watch the the video Oracle uploads to their YouTube channel while you're eating lunch.
But here's why keynotes can take away from your JavaOne 2017 conference experience. For example, if you attend Thomas Kurian's Tuesday morning keynote on emerging technologies and intelligent cloud applications, you'd miss Josh Long and Mark Heckler's session on reactive programming with Spring 5. Actually, there's a bunch of other sessions going on at that time, ranging from Martijn Verburg's talk on surviving Java 9 to Stuart Marks' talk on Java collections. If anything interesting gets said about new trends or technologies in a keynote, it'll be covered extensively by the tech media. The same can't be said for the nuggets of understanding that can be panned from attending a good JavaOne session.
Enjoy the party
The other big piece of advice? Enjoy San Francisco, especially if it's your first time in the city. It's the smallest alpha city in the world, but it is an alpha city. There are plenty of parties, meet-ups and get-togethers you'll find yourself invited to, and it's worth taking up any offers you manage to get. Having said that, keep an eye on how much gas you have left in the tank at the end of the day, because you want to be able to make it to all of the morning sessions you've scheduled for yourself.
If it's your first time attending, I assure you that you'll have a great time at JavaOne 2017, and with the new layout bringing JavaOne 2017 closer to the Oracle OpenWorld conference, this event should be better than any of the others in the memorable past. San Francisco is a great city, and the greatest minds in the world of modern software development will be joining you in attendance.