Are you going to JavaOne 2017? Book your San Francisco hotel now.
It's likely not advice a veteran of JavaOne conferences needs to hear, but if you've got your ticket for JavaOne 2017, and you're attending this OracleWorld affiliated event for the first time, I'm telling you not to do any last minute searching for a San Francisco hotel.
San Francisco is a city completely ill equipped for handling an event of OracleWorld and JavaOne 2017's magnitude. In fact, San Francisco is so small, it's ill equipped to handle events of any magnitude. The two million square foot Moscone Center, named after the San Francisco Mayor whose assassination was portrayed in the Sean Penn movie Milk, is a fine conference venue, but there are simply not enough hotels to accommodate all of the guests and speakers who will be in attendance.
Cutting the stay short
Many attendees would love to spend the entire week in San Francisco, but the per-night hotel cost just becomes far too prohibitive. The conference is still almost two months away, yet discounted three and four star hotels available through the JavaOne 2017 website are already pricing at between $285 and $585 a night. And I'd be happy to bet that those $285 a night hotels won't be available by time September rolls around. In fact, about a month before the conference, Oracle usually takes down the option to book a hotel through their website, as all of the available rooms have been booked.
As a long time consultant who worked largely in the US north-east, I rarely booked accommodations more than a month out, and typically would search for a hotel two weeks before a gig would start. The first time I attended JavaOne, I applied the same strategy and suffered greatly for it. I found very expensive accommodation at low-budget hotel on Lombard Street. The $350 a night motel didn't have any air conditioning, and it was an unusually hot week in the city, making the stay particularly uncomfortable.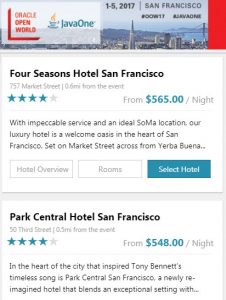 Never too close for comfort
Furthermore, the location was well beyond walking distance to the event, but given the complete lack of cabs in the city, I had to make the sweaty and uncomfortable hike myself. Uber has helped address the transportation problem in the city, but at an event like JavaOne, you want to be close to the shenanigans. It's nice to be able to get to the opening events without having to get up ridiculously early, and it's also nice to be able to rest in your hotel in the late afternoon before walking back and attending some of the evening events. Cabbing back and forth to a hotel tends to be both expensive and unnecessarily inconvenient.
So this is my final word of warning to people attending OracleWorld or JavaOne 2017. Make sure you've got your hotel booked. Do it right now if you haven't done it already. Otherwise you'll be spending way too much money on accommodations, and the only hotels available will be 30 miles away in Burlingame, or even worse, in Oakland. And trust me, you don't want to be staying there.