RPA skills in demand as organizations eye better engagement
RPA developer skills are among the most valuable on any resume. Here's why organizations seek out developers with these skills and what returns RPA can deliver to an enterprise.
Conventional wisdom suggests that it's counterintuitive for a company to rely on a software program to boost employee and customer engagement. However, that's exactly what many organizations do when they invest in software developers with strong RPA skills.
What sort of skills do these developers possess? And how can they create immediate organizational value as they implement and manage RPA software? Here are some ways that a company can evaluate RPA's potential usefulness and how to identify some prospective candidates.
RPA skills in demand
A developer with strong RPA skills can quickly create robots to perform repetitive tasks previously done by humans. These robots can perform tasks around the clock, without error, at a fraction of the cost.
Most organizations' first foray into RPA development involves invoice processing. RPA software tackles the heavy lifting of invoices and provides a "completely digital and remote business experience, meaning no face-to-face requirement," said Craig Le Clair, vice president at Forrester. "This means RPA bots that gather data, complete forms, take actions to get things done, collect e-signatures, etc." Le Clair said.
Organizations also want developers with strong RPA skills to improve customer engagement through improved interactive outcomes. RPA can enhance chatbot or communication management system capabilities by scheduling and automating what were previously slow, error-prone manual activities, said Arthur Villa, senior research director at Gartner. These improvements can be added quickly if an organization has developers that possess these advanced RPA skills.
"RPA can be rapidly deployed to improve existing employee and customer engagement systems by connecting them to systems that lack APIs," Villa said. "Requests can be more rapidly fulfilled through automated solutions instead of being bottlenecked by humans in the process."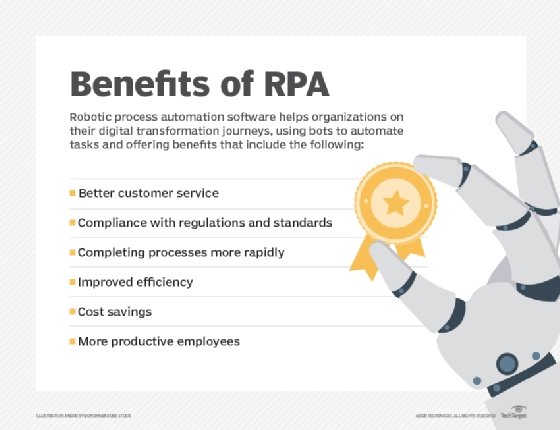 RPA won't bring immediate rewards, yet
While Villa spoke about the potential benefits of an RPA deployment, he also cautioned prospective organizations that they shouldn't expect an immediate boost to customer or employee engagement from process automation.
"Most new RPA customers tend to focus on work hour automation, with employee and customer engagement being secondary benefits," Villa said. "Only the most sophisticated RPA customers prioritize employee engagement and customer engagement for their RPA programs."
However, this doesn't mean that an organization should turn its focus off RPA because the main objectives won't be met immediately. Instead, companies must be patient. "With growing interest in attended RPA (that operates on a user's desktop), the use of RPA for improving employee engagement should accelerate over the next several years," said Villa.
Advanced RPA skills lead to biggest gains
There are a variety of ways to take advantage of automation, and a developer with strong RPA skills can often identify opportunities a less experienced developer might miss.
"RPA can help support work from home, health tracking, offload and provide task automation backup and resilience, and reduce costs needed to fight recessionary pressures," Forrester's Le Clair said. "Three times as many information workers will work from home all or most of the time, while many companies institute 'hybrid' models in which workers come to the office less often."
In those cases, RPA can link with conversational intelligence and other automation software to build employee robots, Le Clair said.
New technology adoption requires new skill sets. Software developers with traditional skills will want to ramp up on RPA technologies -- such as UiPath Orchestrator, Automation Everywhere and Blue Prism -- and keep an eye on new vendors that enter the automation market.
Dig Deeper on DevOps-driven, cloud-native app development